During checkout: select the "Orchid & Flask Orders" payment option.
You will be billed later.
Before you commit to buy, please read About Ordering
In the shopping cart: use your back button to return
Aerangis coriacea outcross #3765 (approximately 25 seedlings per flask).
The Species: It is found in Kenya and northern Tanzania growing at elevations from 5000 to 7600 ft. It grows as an epiphyte on trunks or large branches in shady, humid places. The inflorescence is pendant with 4 to 22 flowers. It is a medium sized plant when mature. I acquired seed grown plants from a German vendor labeled as Aeranges somalensis and made a sibling cross. When I had the plant identified, it was decided that this is Aerangis coriacea.
Culture: This is considered a cool to cool-intermediate Aerangis species. I have grown seedlings of in at 50F minimum nights and 80F maximum days in somewhat shady conditions. It gets watered year round with dilute fertilizer. It can be grown mounted or potted. As mention above, when I obtained the parents, I thought they were a different species. I have been growing these in warm conditions and they have done well.
Capsule parent: Aerangis coriacea '6298'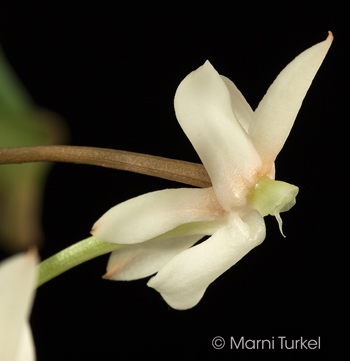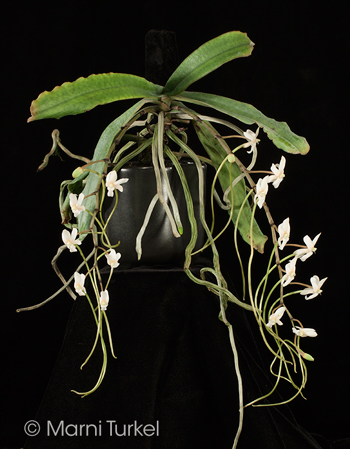 Pollen parent: Aerangis coriacea '8988'