During checkout: select the "Orchid & Flask Orders" payment option.
You will be billed later.
Before you commit to buy, please read About Ordering
In the shopping cart: use your back button to return
Angraecum conchoglossum outcross #2537 (approximately 25 seedlings per flask).
The Species: Angraecum conchoglossum is from the islands of Madagascar and Reunion on mossy branches in evergreen forest. It is found at elevations from 3300 to 6600 feet where it grows as an epiphyte. The inflorescence carries a single flower with a long spur. It blooms from the spring through fall. With age, this species will make keikis for an impressive specimen plant.
Culture: This species will do well with a growing season intermediate to warm and winter in the intermediate to cool. It does best with good humity. The pendant habit makes this best suited to mounting. If you want to grow it potted, keep in mind that it will hang down as it grows. It is a fine rooted species and should not be allowed to stay dry for any extended period of time.
One of the parents: Angraecum conchoglossum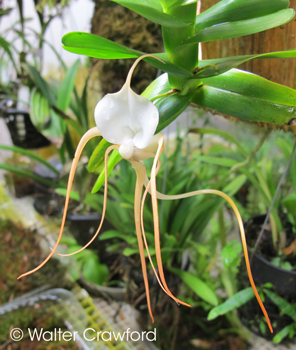 An unrelated Angraecum conchoglossum