During checkout: select the "Orchid & Flask Orders" payment option.
You will be billed later.
Before you commit to buy, please read About Ordering
In the shopping cart: use your back button to return
Angraecum didieri outcross treated #93589 ('3517' x '3515') (approximately 25 seedlings per flask). These seedlings have been treated to alter the chromosome count. This does not guarantee that they will be 4N. For more information go to Ploidy.
The Species: This species is from Madagascar where it grows in humid forest between 2000 to 5000 ft as an epiphyte. It has a wonderfully night-fragrant flower and is noted for its distinctive and beautiful silvery roots. Flowering time is late spring to summer. Both of the plants used in this cross have been in cultivation for many, many years and are most likely collected plants.
Culture: This plant is adaptable to a variety of growing conditions, but does best when the roots can dry quickly between waterings. I prefer to grow it mounted with little or no moss and water daily during the growing season with regular fertilizer. It benefits from a somewhat drier winter. It is a compact plant that is suitable for growing under lights or on a windowsill.
Capsule parent: Angraecum didieri '3517'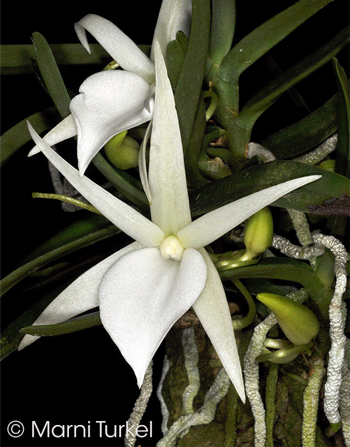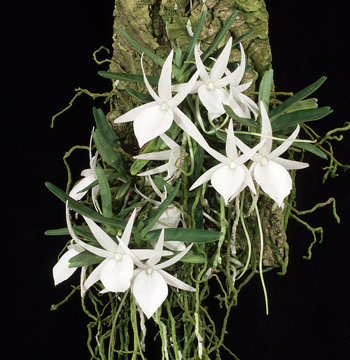 Pollen parent: Angraecum didieri '3515'