Sold out
Angraecum vigueiri outcross #357 outcross ('Heather' x '5/05') (approximately 25 seedlings per flask).
The Species: It grows at elevations from 3000 to 3600 feet only in Madagascar. The flowers are large and fragrant (especially at night). The flowers can be well over 5" tall not including the spur. This is a rare and highly desireable species.
Culture: I have always grown this in intermediate to cool-intermediate conditions, but it should do well warmer. I give it year round moisture and dilute fertilizer. It gets moderately bright light. Some people grow this mounted, but I have done best with my plants potted in an open well-drained fine bark mix.
Pollen Parent: Angraecum viguieri 'Heather'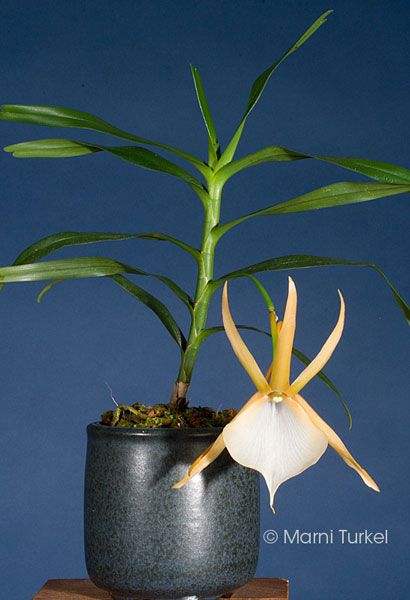 Capsule Parent: Angraecum viguieri '5/05'

Capsule Parent: Angraecum viguieri '5/05'