Sold out
Arachnanthe (Esmeralda) cathcartii treated outcross #93279 ('6160' x '6860') (approximately 25 seedlings per flask). These seedlings have been treated to alter the chromosome count. This does not guarantee that they will be 4N. For more information go to Ploidy.
The Species: This grows as an epiphyte in forests in the eastern Himalayas at elevations from 2000 to 6600 feet. The flowers are stunning, rich colors (white on the back) and up to 3.5" wide with a mobile lip that moves in the gentlest breeze. It grows to be a large plant, often branching and pendant in deep shade.
Culture: I have this advice from an acquaintance who lives where it grows and grows it beautifully: "It does well in conditions similar to zygopetalums and plain leaf paphs. They do not like to dry out too much during winters. 50-60% shade. They like to grow into a fairly large plant before they start flowering. They are slow to start with initially & do not like being moved around. Sometimes they sit there, just growing a leaf or two for a few years before they start thriving. You may try growing them in a hanging basket."
I had been growing this potted and loosely staked up. As it gets taller, it clearly shows its desire to be pendant and leans on the wall. It grows well for me with year round water, dilute fertilizer in cool intermediate to cool conditions. Since I hung mine up and let it hang freely it has become a realiable bloomer. It will also grow in intermediate conditions.
Capsule parent Arachnanthe cathcartii '6170'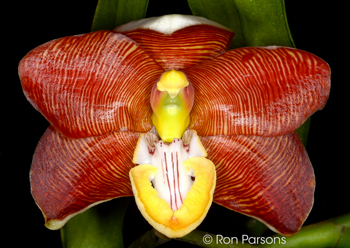 Pollen parent Arachnanthe cathcartii '6780'