During checkout: select the "Orchid & Flask Orders" payment option.
You will be billed later.
Before you commit to buy, please read About Ordering
In the shopping cart: use your back button to return
Arachnanthe (syn Esmeralda) clarkei treated outcross #93729 ('8845' x '8870') (approximately 25 seedlings per flask). These seedlings have been treated to alter the chromosome count. This does not guarantee that they will be 4N. For more information go to Ploidy.
The Species: This species grows in the Himalayas, through Thailand into southern China. It is found at elevations from 5000 to 6600. The inflorescence has 3 to 4 flowers and the flowers are lightly fragrant. Both plants from northeast India.
Culture: I grow this plant with 50 F nights and days up to 80F and have seen it growing in intermediate temperatures very nicely. I fertilize them with 1/4 strength fertilizer most of the year and a bit lower strength in winter. Give it moderate to moderately bright light and good air movement. I usually grow it in a fine bark mix and have also grown this species in moss. It seems to bloom best when the growths are allowed to cascade over the side of the container.
Capsule parent: Arachnanthe clarkei '8845'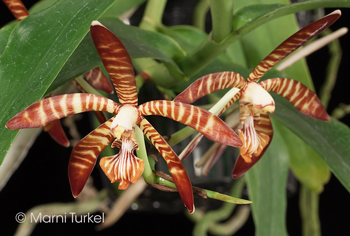 Pollen parent: Arachnanthe clarkei '8870'