Sold out
Aeranthes filipes #484 outcross ('#3759' x '3762') (approximately 25 seedlings per flask).
The Species: Found in Madagascar in humid conditions at elevations from 3300 to 4600 feet. This is a small stature plant with flower about 1.5" wide that are presented on a wiry pendant spike.
Culture: It is a warm to intermediate grower that requires year round moisture. I fertilize them with 1/4 strength fertilizer most of the year and a bit lower strength in winter. Some people grow this mounted, but I have much better luck with it potted, usually in a fine bark mix. Because of the pendant spike habit they are best shown when hanging. When it comes in to spike, I put the pot in a basket so the spikes can dangle freely. Some say to grow in very shady conditions, but I find they do well in moderate to moderately bright light.
Capsule parent Aeranthes filipes #3759.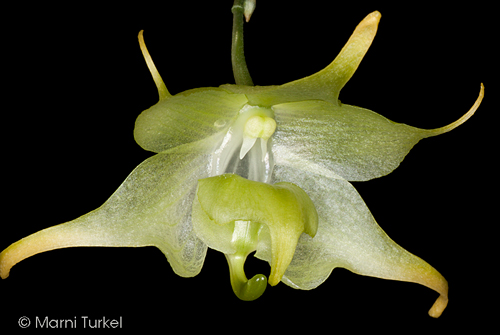 Pollen parent: Aeranthes filipes ''3762'. For reference, the specimen plant is growing in a 3" planter set inside a slightly larger net basket.