During checkout: select the "Orchid & Flask Orders" payment option.
You will be billed later.
Before you commit to buy, please read About Ordering
In the shopping cart: use your back button to return
Barkeria dorotheae #5835 15 plants sibling cross ('5804' x '6541')(approximately 25 seedlings per flask).
The Species: An uncommon, small stature species in the genus Barkeria. This is a warm growing species with distinct seasonal requirements that must be understood to grow this successfully. The plant size is up to 8" tall, but they will bloom much smaller than that. The flowers are about 1" wide with up to 12 flowers on an inflorescence. This comes from close to sea level on the dry Pacific coast of Mexico. The primary rainfall is during July through September with a lesser amount in June and October. November through May is quite dry.
Culture: These do well mounted on small pieces of rough wood or bark. Generous water and dilute feritilizer should be applied during active growth. In the dry months, occassional misting is adviseable to keep pseudobulbs from shriveling. Stop fertilizer during the dry periods. I have grown and flowered these with minimum nights in the mid to low-60's F. In nature they would experience temperatures about 5F higher in winter and days in the mid 80's in winter and high 80's in winter. These grow in bright light and need good air movement.
Barkeria dorotheae: I didn't keep good notes on exactly which clones I was using when I made the cross, so show two representative plants from my collection.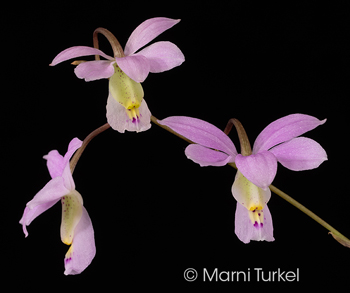 First bloom seedling