During checkout: select the "Orchid & Flask Orders" payment option.
You will be billed later.
Before you commit to buy, please read About Ordering
In the shopping cart: use your back button to return
Or
During checkout: select the "Orchid & Flask Orders" payment option.
You will be billed later.
Before you commit to buy, please read About Ordering
In the shopping cart: use your back button to return
Barkeria palmeri #5801 & 5803 sibling cross ('6530' x '3888') (flasks of 15 or 25 seedlings per flask).
The Species: This grows in Mexico on the lower Pacific slopes usually at elevations from 250 to 2000 ft and occassional a bit higher. It his a deciduous plant that grows as an epiphyte in decidious forests and on shrubs in savannas. The plants are miniatures up to 6 in tall. The inflorescence is up to 12" long, erect to arching, sometimes branched with as many as 30 flowers that are from 0.8 to 1.2 in.
Culture: This is a warm grower and has done well for me with an average minimlum winter night aroung 65F. The days are usually around 80F. The summers are shady with daily water and dilute fertilizer. The winters are drier with misting to keep the bulbs from dehydrating. Once the new growth begins in the spring I start to water again, first sparingly and then regularly. I have only grown them as mounted plants with little or no retentive moisture. If your humidity is less than ideal, you may want to add some moss or coconut fiber at the roots. They can be grown potted in a very free draining medium such as medium bark or even styrofoam peanuts.
Capsule parent: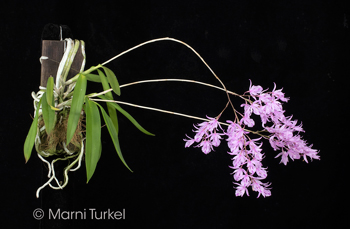 Pollen parent: