During checkout: select the "Orchid & Flask Orders" payment option.
You will be billed later.
Before you commit to buy, please read About Ordering
In the shopping cart: use your back button to return
Barkeria skinneri outcross #3902 ('Stony Point' x 'Sanchez') (approximately 25 seedlings per flask).
The Species: Native to Chiapas, Mexico and adjacent parts of Guatemala. It is found at elevations from 3000 to 6750 ft where it grows as an epiphyte and a lithophyte. The flowers are about 1.75" wide.
Culture: I have always grown this in cool conditions, but from the elevation data, it should do well intermediate to warm. It does need a dry rest in the winter to perform well and that should probably be at a cooler temperature. When I first grew it, I watered all winter. The flowers were very short lived, just a few weeks. Once I started giving it a winter rest, the flowers not only started to last for several months, it also started growing vigorously and producing larger and larger branched spikes. It now gets warm, wet summers and cool, bright, dry winters.
Capsule parent: Barkeria skinneri 'Stony Point'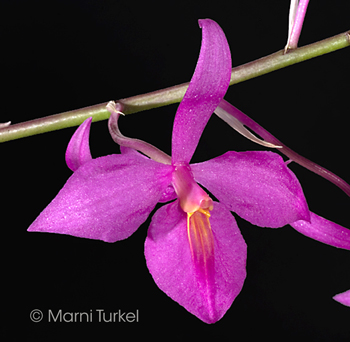 Pollen parent: Barkeria skinneri Best of Friends'