Sold out
This species has been remade and can be ordered here.
Barkeria spectabilis outcross #789 ('1707' x 'Bob Hoffman') (approximately 25 seedlings per flask).
The Species: Long lasting, fragrant flowers can cover the plant. It is from Mexico, Guatemalaand El Salvador where it grows at elevations from 4300 to 11,500 ft. It is a decidous species and benefits from a distinct dry season in winter.
Culture: I grow this with warm, wet summers and cool, dry winters. The usual minimum night where it grows now is 45F, but I have grown it with some night temperatures down close to 32F in the winter and it has been fine (it has to be dry).
Capsule Parent: Barkeria spectabilis '1707.' This is a plant from seed grown cross I did years ago using the clone 'Bob Hoffman' as a parent.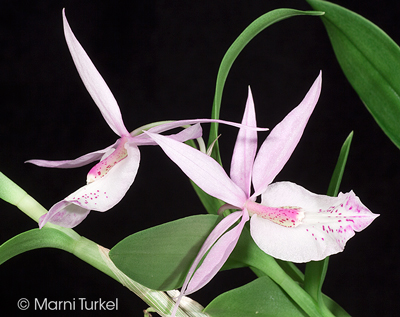 Pollen Parent: Barkeria spectabilis 'Bob Hoffman' I have been growing this plant since 1982 when it was a small division of a collected plant.