Sold out
Bonatea saundersioides #5646 sibling cross ('3357' x '3365)(approximately 15 seedlings per flask).
The Species: The inflorescence appears about the same time that the leaves begin dying down in the early fall and flowers from November to January. The flowers last about 3 weeks. It can have up to 24 of the green and white flowers per spike. It grows in shade in wooded ravines and savanna at elevations from 2000 to 4000 ft in somewhat dry conditions.
Culture: Most of the rainfall in the growing area is during the summer months with infrequent showers during the winter months. The summers are warm and the winters are cool to cold. They do well with 40 to 70% shade. Plant the top of tuberoid 3/8" to 1/2" below the surface of medium. As soon as the new growth begins in early spring, start watering so it is barely moist until the growth is well establishced. Then adjust the water frequency so that the mix dries slightly between waterings. Water is reduced while flowering and then discontinued as the leaves dry up. Water occassionally (monthly) during the winter to keep the tuberoids from dehydrating or during warm periods.
Pollen parent: Bonatea saundersioides '3365'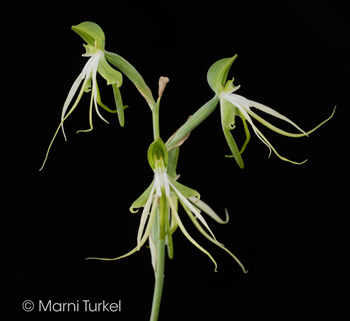 Bonatea saundersioides in situ. My thanks to Paul Minnaar for permission to use his images: