Sold out
Brachypeza semiteretifolia outcross #4750 ('A' x 'B') (approximately 25 seedlings per flask).
The Species: A miniature plant known for its lovely fragrance. This monopodial species is found in Vietnam growing in moderately bright light at elevations from 3300 to 5000 ft. The single flowered inflorescence comes from the base of the leaves at the stem. A growth will have multiple inflorescence at the same time. The flowers are notable for the wonderful fragrance and last quite well.
Culture: I have always grown this species in intermediate conditions with year round watering. From the habitat information, in nature it gets a lessening of water in the winter for several months. That said, they do bloom regularly for me without the drier winter. I water with 1/4 strength fertilizer.
Capsule Parent: Brachypeza semiteretifolia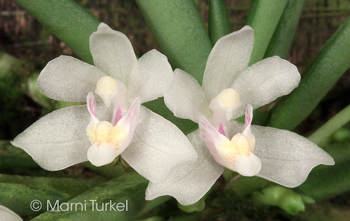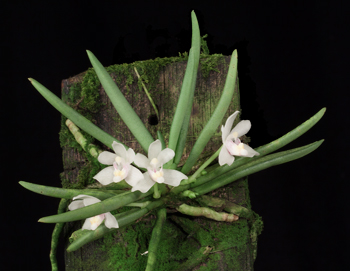 Pollen parent: Brachypeza semiteretifolia