During checkout: select the "Orchid & Flask Orders" payment option.
You will be billed later.
Before you commit to buy, please read About Ordering
In the shopping cart: use your back button to return
Brassavola perrinii selfing #5421 selfing (approximately 25 seedlings per flask).
The Species: The flowers are about 2" wide and fragrant and the bloomings I have had. The terete leaves are pendant to arching and the inflorescence is upright to arching for a very nice presentation. As the plant gets larger the inflorescence will have 3 to 6 flowers. It is found in Brazil (the source of the parent plant), Bolivia, Paraguay and Argentina. It is found at elevations from 6300 to 6600 ft. Researching this I found a quite a bit of confusion on just what is Brassavola perrinii. I have imported 5 plants from Brazil under this name. Three are like this one and two that are much larger plants that don't seem to agree with the description. To the best of my knowledge I believe this is correctly named.
Culture: I grow this plant mounted on hard wood or cork bark with just a bit of coconut fiber at the roots. The roots need to dry quickly. I have it in a cool greenhouse (50F minimum winter nights) and 75 to 80F days. It is watered most days during the growing season and is much drier in the winter. It gets misted a couple times a week and occasionally gets a watering during the winter months. It is in moderately bright light.
Parent plant: Brassavola perrinii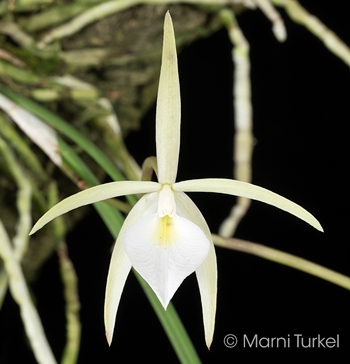 Another clone from the same source that shows the habit of the species: