During checkout: select the "Orchid & Flask Orders" payment option.
When this item has a price and becomes available for order
you can decide if you want to commit to buy it.
In the shopping cart: use your back button to return
Bulbophyllum plumatum outcross #1004 ('5183' x '5933') (approximately 25 seedlings per flask).
The Species: This grows in Malaysia, Sumatra, and the Philippines in humid forest at elevations between 660 and 3300 feet. The flowers can be up to 4 inches long and have a very elegant presentation on a pendant spike.
Culture: this is a warm growing species but has done well enough with 56 F minimum night temperatures. I know it would be more robust with warmer nighs. I've grown it both mounted on cork bark and potted in a net pot in moss which I hang up. I keep it evenly moist, but not soggy, and fertilize with one quarter strength fertilizer at most waterings. I've grown it in moderate light.
Capsule Parent: Flowers are 4" long.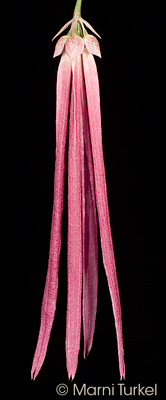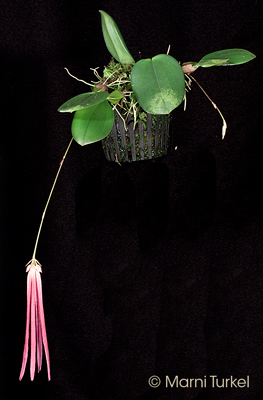 Pollen Parent: