During checkout: select the "Orchid & Flask Orders" payment option.
You will be billed later.
Before you commit to buy, please read About Ordering
In the shopping cart: use your back button to return
Bulbophyllum dayanum outcross #1929 ('Stony Point' x 'Piotr') (approximately 25 seedlings per flask).
The Species: This is a small stature, creeping Bulbophyllum species that hugs the mount and produces clusters of up to 5 of the exotic, fringed flowers that are approximately 1.5" tall. It grows in Myanmar, Cambodia, Vietnam and Thailand at elevations from seal level to 4300 ft. The distinctive leaves are dark green above and purple on the underside.
Culture: It does best in warm to intermediate conditions in low light. I grow it horizontally on tree fern and it never completely dries out. It gets dilute fertilizer at every watering.
Capsule parent: Bulbophyllum dayanum 'Stony Point'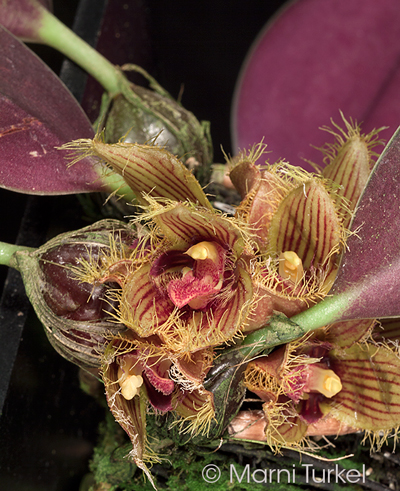 Pollen parent: Bulbophyllum dayanum 'Piotr'