During checkout: select the "Orchid & Flask Orders" payment option.
You will be billed later.
Before you commit to buy, please read About Ordering
In the shopping cart: use your back button to return
Bulbophyllum elisae outcross #2774 ('Jesup' x 'Judy') (approximately 25 seedlings per flask). This is a cross between a clone with long lateral spepals and one with short lateral sepals.
The Species: It is an Australian species that grows at elevations from 2600 to 4300 feet. The spike can be from 3 to 8" long and have 5 to 12 of the 1" flowers. This is a rare and highly desireable species that is interesting in or out of bloom. The pseudobulbs are distinctive and are reminescence of a pineapple. The last image shows a seedling of Bulbophyllum elisae showing the texture of the pseudobulbs.
Culture: I grow this species in cool-intermediate to cool conditions with moderately bright light.To encourage blooming, give it a drier, cooler and brighter winter rest. It does well for me on a horizontal cork mount with little or no moss. During the growing season, it gets daily water with dilute fertilizer and is dry or approaching dry before the next watering.
Capsule Parent: Bulbophyllum elisae 'Jesup'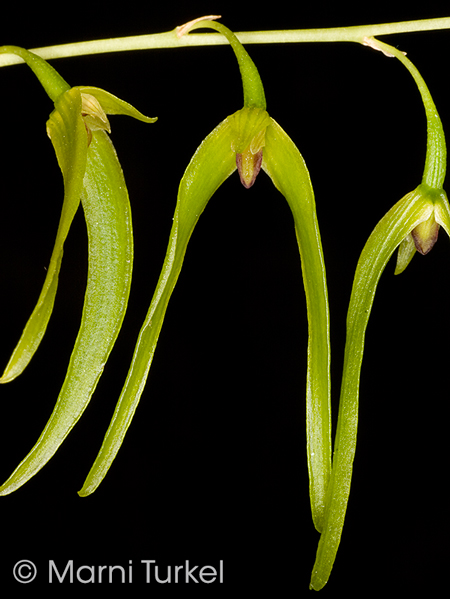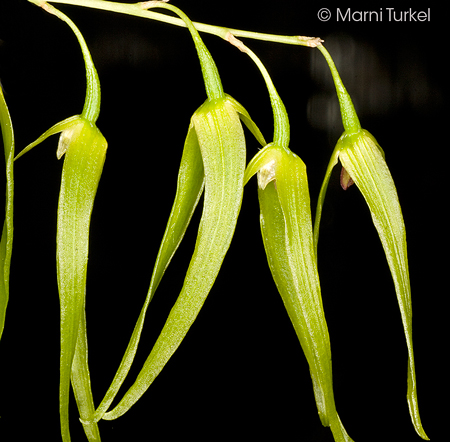 Pollen Parent: Bulbophyllum elisae 'Judy'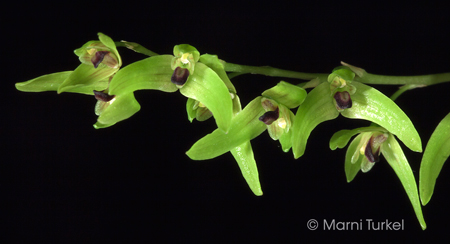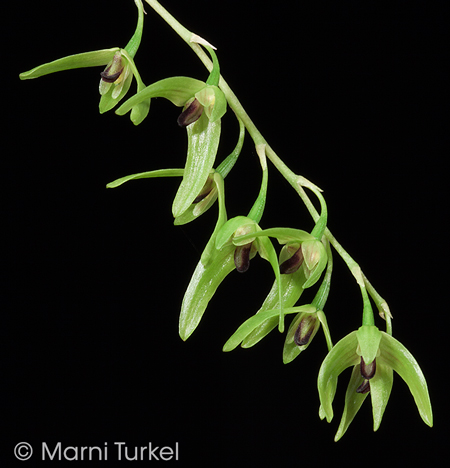 Seedling of of Bulbophyllum elisae showing the texture of the pseudobulbs.