During checkout: select the "Orchid & Flask Orders" payment option.
You will be billed later.
Before you commit to buy, please read About Ordering
In the shopping cart: use your back button to return
Bulbophyllum fritillariiflorum #4804 outcross ('Judy') (approximately 25 seedlings per flask).
The Species: This comes from New Guinea an elevation of 1500 ft. The tallest growth on my specimen plant is 7" tall. The rhizome is less than an inch long so it stays a very compact plant. It is a mat forming species that grows horizontally. The single, 3" long flowers are held above the foliage on an inforescence that is 4 to 6". I've had really nice bloomings in the spring with intermitent flowers earlier and later.
Culture: A warm growing species that likes to stay moist. I have grown it in shallow pots in sphagnum moss. I now have a large plant growing in a very shallow wooden basket in moss that gets watered and fertilzed almost every day.
Capsule parent: Bulbophyllum fritillariiflorum 'Judy'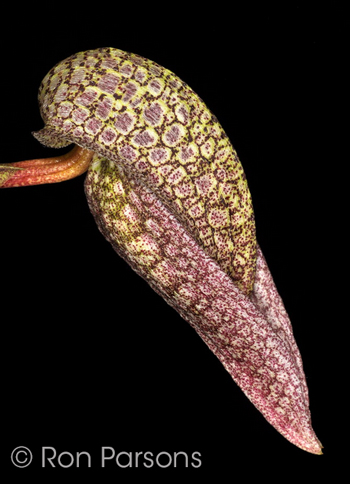 Visual texture of the flower above