During checkout: select the "Orchid & Flask Orders" payment option.
You will be billed later.
Before you commit to buy, please read About Ordering
In the shopping cart: use your back button to return
Cattleya granulosa outcross 3N #3775 ('#2 Breckinridge Lime' 4N mutation x 'Rosemarie') (approximately 25 seedlings per flask). One of the plants is a tetraploid (4N) and the other is a diploid (2N). When a 4N and 2N are crossed they produce a triploid (3N) which can be especially strong growers with high quaility flowers. It is not a good choice for breeding as they produce little seed when used as a parent.
The Species: Cattleya granulosa comes from the extreme northeast of Brazil. The pseudobulbs are 10 to 24 " tall and each growth has 2 leaves that are 3 to 5" long. The inflorescence will carry 3 to 9 or more flowers which are just under 3.5" and fragrant.
Culture: This species is considered a warm grower and should be given bright ("Cattleya") light with good air movement. In its native habitat there is a drier period in the spring, but the humidity remains high. It grows well potted in an open medium so the roots can dry rapidly.
Capsule parent: Cattleya granulosa '#2 Breckinridge Lime' (4N mutation)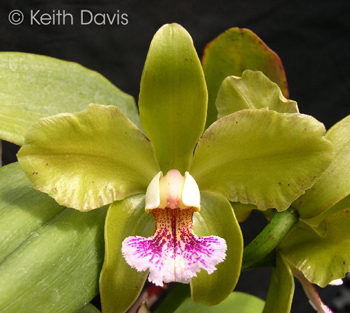 Pollen parent: Cattleya granulosa 'Rosemarie'