During checkout: select the "Orchid & Flask Orders" payment option.
You will be billed later.
Before you commit to buy, please read About Ordering
In the shopping cart: use your back button to return
Cattleya (Laelia) jongheana #5446 outcross ('0636' x 'Elena') (approximately 25 seedlings per flask).
The Species: A compact species from from Minas Gerais, Brazil where it is found between 4600 and 5300 ft elevations. A mature specimen sized plant will have growth in the 6 to 9" tall range with very short rhizomes. The flowers can be up to 6 inches wide.
Culture: It is an intermediate to cool-intermediate grower that likes to dry just a bit between waterings. In the winter, the period the roots are dry can be a bit longer. When in bud and bloom, do not get the flowers wet as that shortens the bloom time. I am currently fertilizing at every watering at the rate of 1/4 teaspoon per gallon and a bit lower strength in winter. It can be grown potted or mounted. Give it moderately bright to bright light.
Capsule parent: Cattleya jongheana '0636'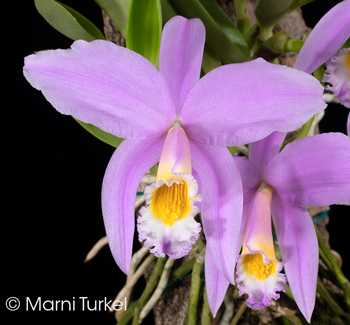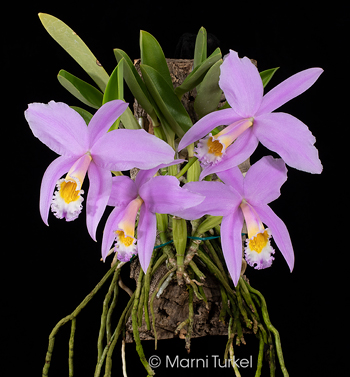 Pollen parent: Cattleya jongheana 'Elena'