During checkout: select the "Orchid & Flask Orders" payment option.
You will be billed later.
Before you commit to buy, please read About Ordering
In the shopping cart: use your back button to return
Cattleya labiata alba #4747 outcross ('Stony Point' x '5800') (approximately 25 seedlings per flask).
The Species: It grows in Venezuela and Brazil at elevations between 2000 and 3000 feet. It will produce up to five flowers per inflorescence.
Culture: This is considered a warm growing species but has done very well in my greenhouse with a 56F minimum winter nights and 80 to 85F daytime. It hangs up high in the greenhouse so it gets quite bright light. It is allowed to dry between waterings.
Capsule parent: Cattleya labiata alba 'Stony Point'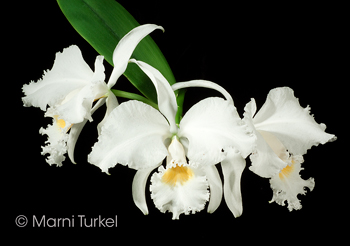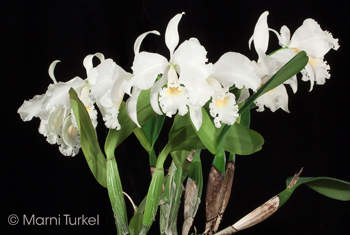 Pollen parent: Cattleya labiata alba '5800'