During checkout: select the "Orchid & Flask Orders" payment option.
You will be billed later.
Before you commit to buy, please read About Ordering
In the shopping cart: use your back button to return
Cattleya lobata treated outcross #93594 (approximately 25 seedlings per flask). These seedlings have been treated to alter the chromosome count. This does not guarantee that they will be 4N. For more information go to Ploidy.
The Species: This was formerly known as Laelia lobata. An adaptable Cattleya that can grow warm, intermediate or cool. It is a medium to medium-large Cattleya that puts on a magnificent show in bloom. It grows on the coast in Brazil from Rio do Janeiro to São Paulo.
Culture: This has done very well with 56F minimum nights grown up high in bright light. I have it in a basket in medium/large bark. It is watered every 3 to 5 days and is usually dry for a couple of days between waterings.
Capsule parent: Cattleya lobata 'Stony Point'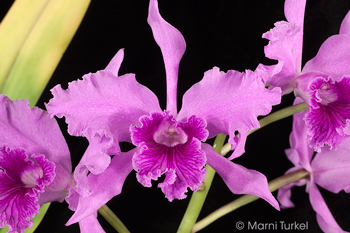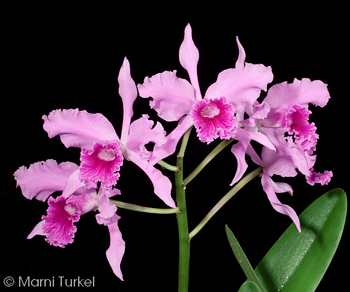 Pollen parent: Cattleya lobata 'Mem. Buck Flitom'