During checkout: select the "Orchid & Flask Orders" payment option.
You will be billed later.
Before you commit to buy, please read About Ordering
In the shopping cart: use your back button to return
Cattleya purpurata outcross #3578 ('9197' x '8049') (approximately 25 seedlings per flask).
The Species: This is a cross of two fine clones which are shown below. It grows in Brazil at elevations from sea level to 600 ft in a narrow strip along the coast of southern Brazil.
Culture: I grow this species in both cool and intermediate temperatures. Give it ample water and fertilizer in the warm months and a bit drier in the winter. Let them dry for a few days between watering. I fertilize them with 1/4 strength fertilizer most of the year and a bit lower strength in winter but more fertilizer in the summer might be beneficial.
Capsule parent: Cattleya purpurata '9197'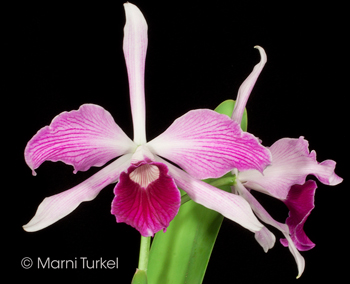 Pollen parent: Cattleya purpurata '8049'