During checkout: select the "Orchid & Flask Orders" payment option.
You will be billed later.
Before you commit to buy, please read About Ordering
In the shopping cart: use your back button to return
Cattleya sincorana coerulea outcross #4564 ('9321' x '9319') (approximately 25 seedlings per flask).
The Species: Found in the state of Bahia, Brazil, growing in dry tablelands where it is exposed to almost full sun. It occurs as an epiphyte on Vellozia bushes or on rocky ledges at elevations from 4000 to 5000 ft. The plants are 4 to 5" tall and very compact in habit. The flowrdes of this species have a natural spread of 4" wide.
Culture: I grow this mounted in cool conditions in Cattleya light with very little moisture retentive materiel at the roots. It is watered and the roots dry quickly. In the heat of summer it is watered daily. In the spring and fall it dries for several days between waterings. In nature it receives less water from December through March though moisture is available from fog and dew during this time. The amount of drying will be affected by the humidity where they are grown. Do not let the leaves or pseudobulbs shrivel during the winter. Some growers do very well with this in intermediate temperatures and many growers do well with this plant potted.
Capsule parent: Cattleya sincorana coerulea '9321'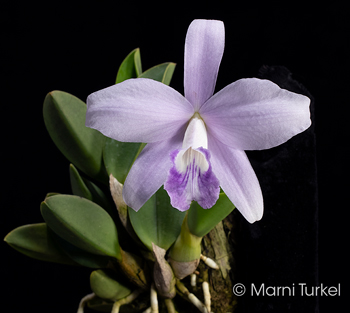 Pollen parent: Cattleya sincorana coerulea '9319'