During checkout: select the "Orchid & Flask Orders" payment option.
You will be billed later.
Before you commit to buy, please read About Ordering
In the shopping cart: use your back button to return
Cattleya violacea outcross #4098 ('Icabaru' AM/AOS x 'Jean Wilson' FCC/AOS) (approximately 25 seedlings per flask).
The Species: This is a widespread species found in Brazil, Peru, Colombia, Venezuela and British Guiana at elevations from 500 to 2300 feet. Although it has an extensive range, the climate in all areas is very similar. It is ferquently growing on large horizontal branches near of over rivers so that even in the dry season, there is moisture from dew at night. The plants are from 4 to 8" tall and usually have 2-3 flowers, but can have up to 8 on an inflorescence. The blooms are fragrant and long lasting making it a very attractive species..
Culture: Grow this species in warm conditions (approximately 70F nights). Water often when actively growing in a way that allows the roots to dry quickly. December through March there is less rain in the habitat, but do not leave dry for extended periods of time. They can be grown mounted on cork or hardwood. If grown potted, medium bark, perhaps in terra cotta pots is recommended by some. Repot just as the new growth begins.
Capsule Parent: Cattleya violacea 'Icabaru' AM/AOS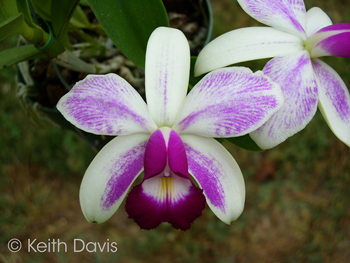 Pollen Parent: Cattleya violacea 'Jean Wilson' FCC/AOS