During checkout: select the "Orchid & Flask Orders" payment option.
You will be billed later.
Before you commit to buy, please read About Ordering
In the shopping cart: use your back button to return
Calopogon tuberosus spontaneous #4284 (approximately 15 seedlings per flask).
The Species: This is native to the eastern United States and ranges from Minnesota to Florida. A friend collected this seed on his property. The images are not from that population but show the species well. The flowers can be from light pink to lavender and rarely white. The flowers are about 1.5" tall and carried on spikes from 18 to 24" once mature. They are fragrant in the morning.
Culture: These grow naturally in bright light, usually in bogs or meadows where the roots are cooled by water in the ground. Grow in pots in equal parts silica sand and sphagnum moss. The corms in the flask are above the medium, but out of flask they are below the medium. Grow them in bright light as long as the roots can remain cool. When the leaves start to die back in the fall, give them a period of dormancy of 3 or more months. If you don't have a cool place such as a garage or shed, the corms can be stored in the crisper drawer of the refrigerator in moist sand in a plastic bag until April when it is time to plant.
Calopogon tuberosus, this is a seedling from a capsule I sowed a few years before this current cross. Both capsules were from the same population.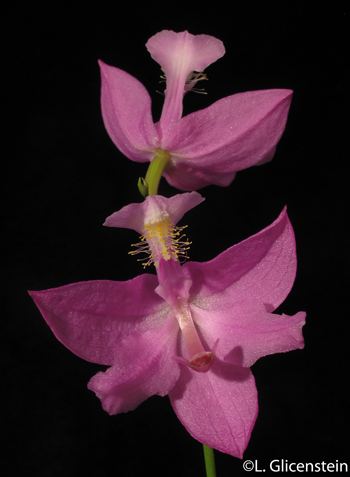 Calopogon tuberosus, representative images