Sold Out
Cattleya percivaliana outcross #333 ('Summit' FCC/AOS x 'Stony Point') (approximately 25 seedlings per flask).
The Species: This is from Venezuela. It is found growing on trees and rocks (usually near rivers) at elevations from 4600 to 6500 ft. The flowers are fragrant and up to 5". 'Summit' is a very well known clone of excellent shape and color. My plant is a division of the awarded clone that was imported in the late 1800's, not a meristem or selfing. The other parent is a true alba form of good shape that I purchased in 1986 as an imported mature plant. Both plants have been test for ORSV and CymMV and are free of virus and the seed was sown dry to further insure clean offspring. I expect excellent shape and a variety of color forms from this cross.
Culture: I have been growing the parents with 56F minimum night in bright light. The can be grown potted, mounted or in a basket. I water them so that they dry between waterings and during the winter they are watered less so that they are dry for days between waterings. Fertilize during the growing season. I have also grown these well with 50F minimum night.
Capsule Parent: Cattleya percivaliana 'Summit' FCC/AOS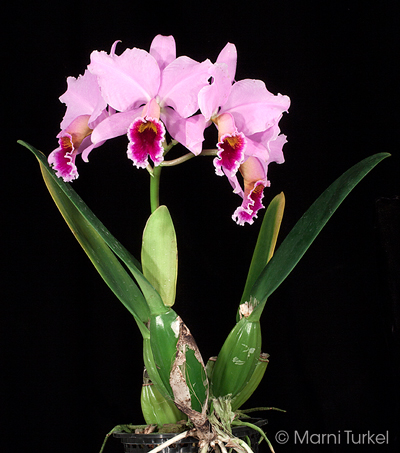 Pollen Parent: Cattleya percivaliana alba 'Stony Point'