During checkout: select the "Orchid & Flask Orders" payment option.
You will be billed later.
Before you commit to buy, please read About Ordering
In the shopping cart: use your back button to return
Cattleya warneri alba outcross #4087 and 4088 ('Hilmar' x 'Richard Bell and reciprocal') (approximately 25 seedlings per flask).
The Species: This grows in the Brazilian states of Bahia, Espirito Santo and Minas Gerais. The plants are found between 350 to 2600 ft elevation. Plants of Cattleya warneri are variable in size from 8 to 20 inches; both of the parents are mid-sized. Flowers on my bloomings are about 6" and wonderfully fragrant.
Culture: I have been growing both parents in an intermediate greenhouse (56F minimum nights). They get bright light, year round water and fertilizer, and dry for several days between waterings. Judging from the elevation range, they should do very well in warm conditions.
Capsule parent: Cattleya warneri alba 'Hilmar'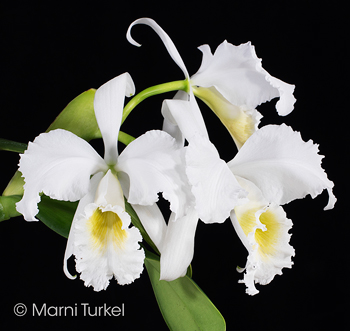 Pollen parent: Cattleya warneri alba 'Richard Bell'