Sold out
Ceratostylis eria outcross #2222 (8261' x '4379') (approximately 25 seedlings per flask).
The Species: This is a delightful miniature with sparkling white flowers and a green lip. It grows at elevations from 4650 to 7000 ft in Malaysia. The flowers are about 5/8" wide. The plants I grow were imported and I think were growing in rather bright light. As new acquisitions the leaves were about 1.5" tall. Now after several years, the growths I have put on are 3.5" tall.
Culture: I have grown this species in both intermediate and cool conditions. It is in moderate to moderately bright light and is watered year round. It has done well potted in a fine bark mix and also mounted on hardwood.
Capsule parent: Ceratostylis eria '8261' For reference, both of the potted plants are in a 2.25" planter.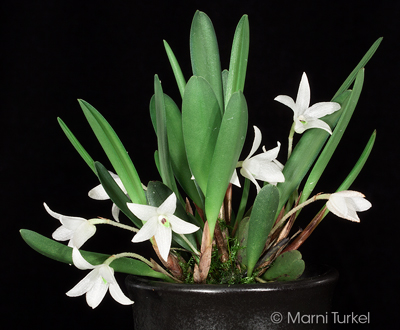 Pollen parent: Ceratostylis eria '4379'