During checkout: select the "Orchid & Flask Orders" payment option.
You will be billed later.
Before you commit to buy, please read About Ordering
In the shopping cart: use your back button to return
Chiloschista species new, unidentified #4994 outcross (approximately 25 seedlings per flask).
The Species: I bought several plants of this in 2016 when it was labeled Chiloschista 'pink'. I still don't have an name for it. There is a pink blush on the flowers which will be stronger if they get more light in the winter. I keep forgetting to move them. I know very little about it except that it comes from higher elevations on the northern border of Myanmar/Burma.
Culture: I grow this the same as my other Chiloschista species except it is grown in the cool house rather than warm. The winter nights are 50F with daytime highs about 75F. Summer is mid to upper 50's and 75F most days. They are mounted on wood with no moisture retentive material. If you have low humidity, you might want to put some Spanish moss around or over them or something to hold a bit of moisture. In the warm months they are watered every day and are dry very quickly. In the winter they are misted occasionally. As mentioned above, better color will be obtained with brighter light in the winter. Mine are growing in moderately bright light. They are fertilized during the growing season at 1/4 teaspoon per gallon. No fertilizer is given during the winter.
Pollen parent: Chiloschista species unidentified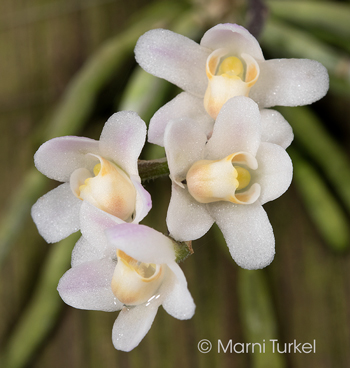 Another plant of this unidentified Chiloschista species from the same source as the parent above.