Sold out
Chiloschista lunifera outcross #3975 (1057' x '1069') (approximately 25 seedlings per flask).
The Species: A leafless orchid found in Southern Asia from northeastern India and Burma into northern Thailand and Laos. It grows at elevations from 1850 to 2600 ft as an epiphyte in deciduous forests and warmer lower valleys. The inflorescence can be between 3 and 12". The 1/2" flowers are showy with the high contrast of the rich red brown to maroon brown with yellow edging.
Culture: Grow these in moderate shade. Plants should dry quickly. They do best mounted with little or no moisture retentive material on or under the roots. Chiloschista lunifera comes from a monsoon climate with ample water from mid-spring through early autumn. Then they go into a drier period where there is little rain in the habitat but still moisture from dew and mist. I grow these in the range of 65 to 85. In nature they get cooler winters. I use dilute fertilizer during the growing season.
Capsule parent: Chiloschista lunifera '1057'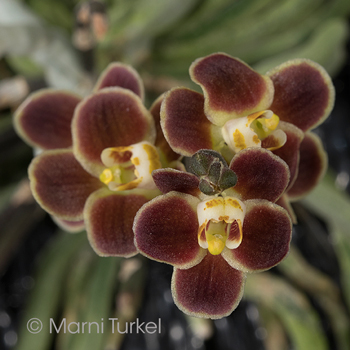 Pollen parent: Chiloschista lunifera '1069'