During checkout: select the "Orchid & Flask Orders" payment option.
You will be billed later.
Before you commit to buy, please read About Ordering
In the shopping cart: use your back button to return
Chiloschista yunnanensis #5885.15 selfing (approximately 15 seedlings per flask).
The Species: A mostly leafless orchid found in Yunnan and Sichuan provinces of China as an epiphyte at elevations from 2300 to 6600 ft in open woods or forest. I find this to be one of the easier Chiloschista species to maintain from year to year.
Culture: I have always grown this mounted with little or no moisture retentive medium with good humidity. If humidity is low you may want to add moss or coconut fiber to the mount. I grow it in medium light with frequent watering in the growing season and misting in the winter. The photosynthesis is done through the roots and leaves, if any, will be insignificant. The roots should dry quickly. I have grown this in warm conditions, but it should also do well in intermediate or cool temperatures judging by the elevation range.
Parent plant: Chiloschista yunnanensis 'Wenqing'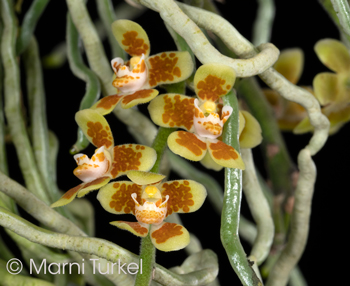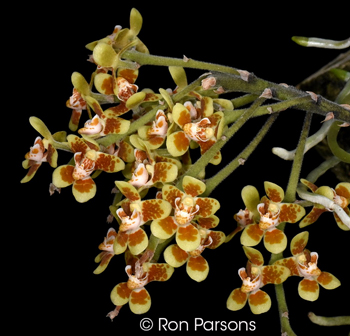 Another plant of Chiloschista yunnanensis from my colleciton for a better picture of the habit.