Sold out
Cleisocentron gokusingii (frequently mislabeled as Cleisocentron merrilliana) outcross #799 ('2194' x '5441') (approximately 25 seedlings per flask).
The Species: There is much confusion in the trade over this species. It was introduced in sales as Cleisocentron merillianum and was known that way for some years. Recently it has been understood that this is properly Cleisocentron gokusingii. Either way, this is an interesting and rewarding species. It blooms several times per year, is adaptable to a number of temperatures and has clusters of lovely bluish flowers. It grows in Sabah Borneo at elevations about 6000 ft as an epiphyte. The flowers are a bit over 1/2".
Culture: I grow this potted, usually in medium or fine bark, but it can be grown mounted. It can be grown in intermediate or cool conditions. I give it moderately bright light and water year round with dilute fertilizer.
Capsule parent: Cleisocentron gokusingii '2194'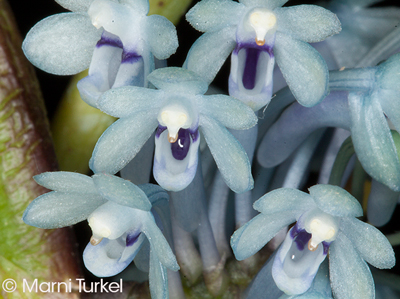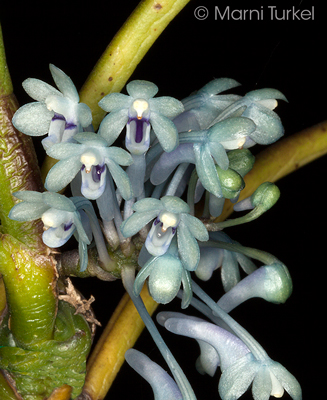 Pollen parent: Cleisocentron gokusingii '5441'