Sold Out
Coelogyne xyrekes outcross #1108 ('1453' x '#2') (approximately 25 seedlings per flask).
The Species: It grows in Thailand, Peninsular Malaysia and Sumatra from 2300 to 6300 feet. It comes from a wide range of elevations and can be grown warm to cool. The blooms are sequential and the plant can be in bloom much of the year. A good sized specimen plant can be almost all year. The leathery leaves have a bronzy cast to them that makes for a stunning plant. I pronounce the species name zir rick' eez.
Culture: It is a warm to intermediate and possibly cool-intermediaate grower that requires year round moisture. I am currently fertilizing at every watering at the rate of 1/4 teaspoon per gallon and a bit lower strength in winter. Because of the pendant spike habit, they are most easily displayed when grown mounted or in a hanging basket. I find that with my humidity it is better in a pot where it doesn't really dry out completely.
Capsule parent: Coelogyne xyrekes '1453'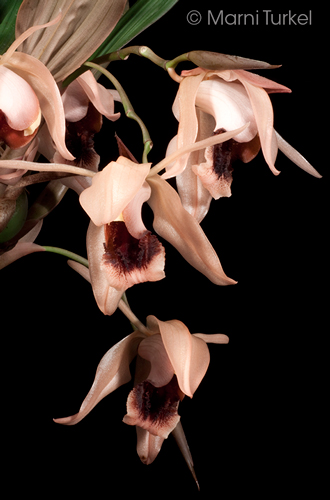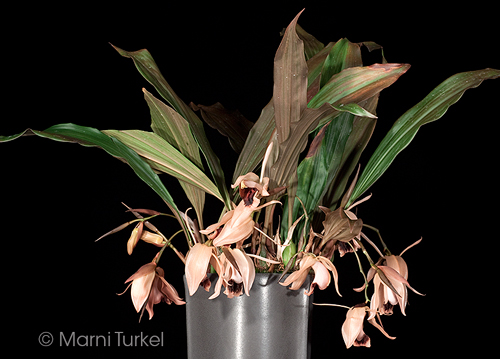 Pollen parent: Coelogyne xyrekes '#2'