Sold out
Comparettia ignea outcross #3528 ('7757' x '7749') (approximately 25 seedlings per flask).
The Species: This is an oncidium relative. The species grows in Colombia at elevations from 4625 to 5280 feet. It grows as a "twig" epiphyte because it is found on the smaller branches and twigs of the host tree or shrub. The inflorescence is arching to pendant and frequently branching.The flowers last well and are a bright spot in any collection.
Culture: Clearly, I didn't research this species when I first got it. I've grown it with 56 to 80F and also 65 to 85F temperatures and it has done very well. Now I find out that it is a cool grower! I grow it mounted on hardwood with almost no water retentive material at the roots in growing environments with good humidity. The plant and mount are dry within a few hours and stay dry until the next watering. Most of the year it is watered every day. Less often in the winter, but still allowing for a wet dry cycle. It is watered with dilute fertilizer at every watering. I grow it in moderate light and gentle air movement.
Capsule parent: Comparettia ignea '7757'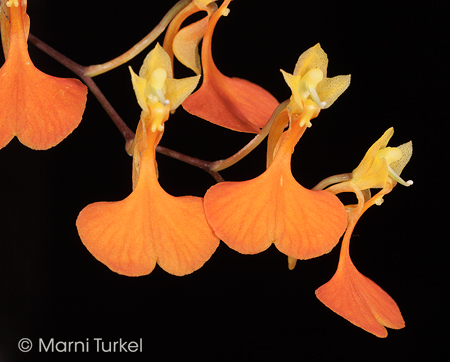 Pollen parent: Comparettia ignea '7749
'