Sold out
Comparettia speciosa outcross #2874 ('3822' x '2.3.15') (approximately 25 seedlings per flask).
The Species: This is an oncidium relative that grows in Southeastern Ecuador and northwest Peru. It is found at elevations from 2300 to 6600 ft as an epiphyte on the small outer branches. It is a small plant with relatively large, bright orange flowers that are about 1.25" wide. On a mature plant the inflorescence will frequently branch. Sometimes the inflorescence will produce more flowers on a side branch once the first flowers have faded.
Culture: Just looking at the elevation range, it should be possible to grow this species warm, intermediate and cool. That may be true depending on what elevation a particular plant comes from. I did grow one cool (50F minimum night) very successfully, but I have also had others go down hill under those conditions. I have been successful with a good number of plants in intermediate conditions. I have not yet tried growing this species in warm conditions. I usually water every day during the growing season and fertilize with a dilute solution. The plant does best when the roots dry quickly. They are best grown mounted so they can have a daily wet/dry cycle.
Capsule parent: Comparettia speciosa '3822'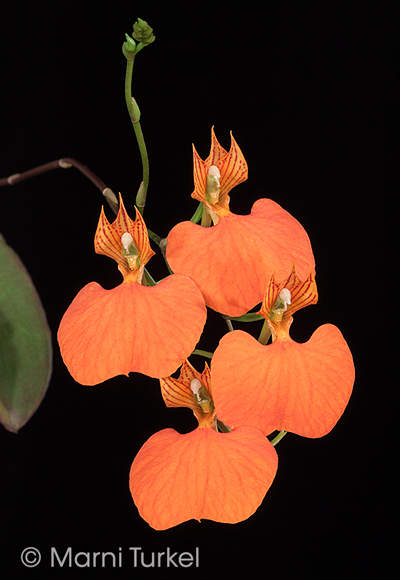 Pollen parent:Comparettia speciosa '2.3.15'