During checkout: select the "Orchid & Flask Orders" payment option.
You will be billed later.
Before you commit to buy, please read About Ordering
In the shopping cart: use your back button to return
Cymbidium erythrostylum treated #95327 outcross ('Charlesworthii' x unnamed) (approximately 25 seedlings per flask). These seedlings have been treated to alter the chromosome count. This does not guarantee that they will be 4N. For more information go to Ploidy.
The Species: This is a distinctive and elegant Cymbidium species of moderate size. The leaves are about 18" long and the overall plant height is 18 to 20" tall. This species is endemic to Vietnam where it grows at elevations around 5000 ft. The flowers are about 1.25" wide with 4 to 8 per inflorescence. The sepals are broad and flat while the petals cover the column and point forward giving and overall triangular appearance to the flowers, which are very long lasting.
Culture: This species is less tolerant of the extremes of temperature than many cymbidiums. In the habitat, the average temperatures in winter are from the low 50's to mid 70's and the average range in summer is low 60s to mid to high 70's. Summers are cloudy and there is less precipitation from November to March. The medium needs to drain freely and be able to hold some moisture to help keep the plants moist during the growing season.
Capsule parent: Cymbidium erythrostylum 'Charlesworthii'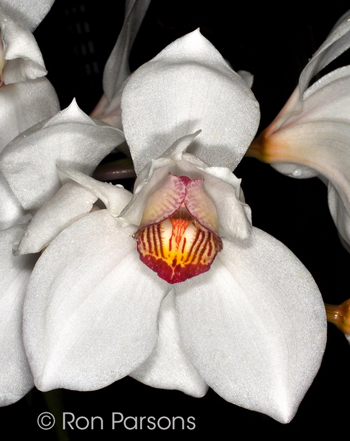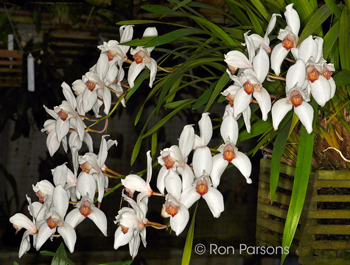 I don't have images of the pollen parent but show the whole plant of another clone.