Sold out
Cymbidium tigrinum #460 outcross ( '2324' x 'Stony Point') (approximately 25 seedlings per flask).
The Species: Cymbidium tigrinum, a compact and desirable species from the Himalayas. The long-lasting flowers are up to 3" wide and have a wonderful honey fragrance. It grows at elevations from 3300 to 9000 feet in northeast India, Myanmar and China. It is not hard to grow;, it is a bit trickier to bloom. Well worth the effort as it makes a wonderful specimen in a very small space.
Culture: I grow it in a terrestrial mix. Summers are warm with lots of water and somewhat shaded. Winters are cool to cold with a significantly drier schedule. They do need occasional watering during the winter, but if you water too much during the late winter the forming spikes will damp off.
Pollen parent Cymbidium tigrinum 'Stony Point'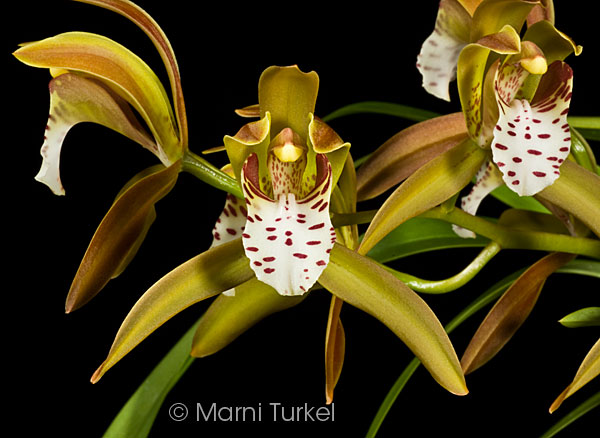 Pollen parent Cymbidium tigrinum 'Stony Point'
Capsule parent Cymbidium tigrinum '2324'