During checkout: select the "Orchid & Flask Orders" payment option.
You will be billed later.
Before you commit to buy, please read About Ordering
In the shopping cart: use your back button to return
Cynorkis angustipetala (syn. guttata) outcross #4534 ('4480' x '1257') (approximately 25 seedlings per flask).
The Species: This is endemic to Madagascar at elevations from 3000 to 6600 ft. The inforescence will carry 10 to 20 flowers. It grows as a terrestrial in open areas or on rocks around peaty marshes or among grasses in savanna.
Culture: This species is endemic to Madagascar
Capsule parent: Cynorkis angustipetala '4480'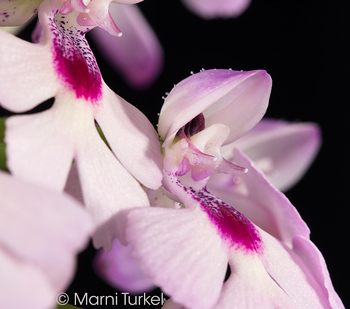 Pollen parent: Cynorkis angustipetala '1257'