During checkout: select the "Orchid & Flask Orders" payment option.
When this item has a price and becomes available for order
you can decide if you want to commit to buy it.
In the shopping cart: use your back button to return
Cynorkis lowiana backcross #5389 (approximately 15 seedlings per flask).
The Species: This grows only in Madagascar as a terrestrial and as a lithophyte in evergreen forests at elevations from 770 to 4000 ft. I was given a tuber of this labeled as Cynorkis lowiana. I wasn't sure if this was correctly identified since most sources list this species with 1 to 5 flowers. Johan Hermans has recently verified that it is Cynorkis lowiana. I made seed because it is a charming plant, compact and quite easy to grow and bloom. I find Cynorkis in general much easier to grow and maintain over years than many other terrestrials such as Pleione or Habenaria species. I have included below an image of the blooming plant with a ruler so you can see how compact it is.
Culture: I grow this in intermediate conditions in moderate to moderately bright light. I prefer to grow it in sphagnum moss in a terra cotta pot. Give it ample water and fertilizer during the growing season. As the leaves start to die back in the fall, decrease watering and then stop. Usually I remove it from the greenhouse for the winter and keep it in a shed where the temperature lows are in the mid 50's. It gets an occasional misting to add humidity over the winter. If you can control the watering it can be left in the greenhouse over the winter. in the spring when new growth starts to show, I water it from the bottom a time or two until the growth is up several inches and then return it to the greenhouse. I haven't tried it yet in warm conditions, but judging by the elevation it should do very well.
Pollen parent: Cynorkis lowiana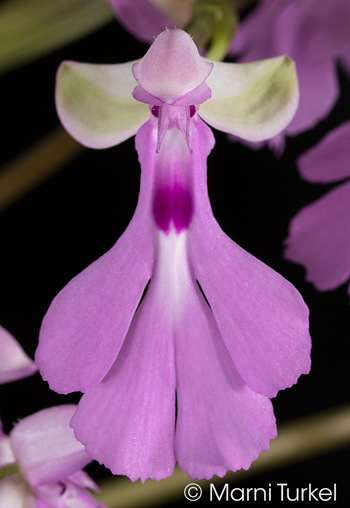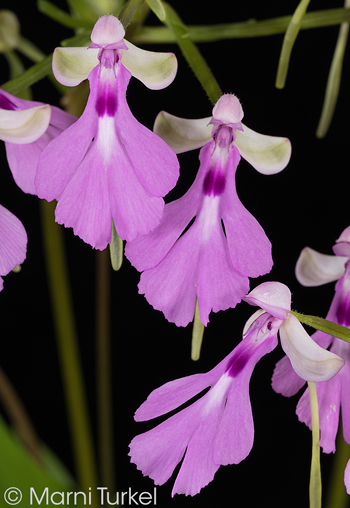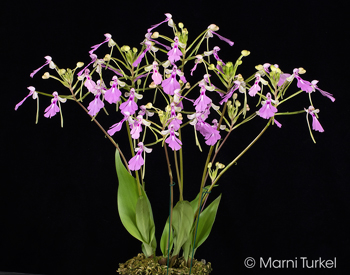 Capsule parent: Cynorkis lowiana