Sold out
Dendrobium auriculatum outcross #4164 ('#3' x '#1') (approximately 25 seedlings per flask).
The Species: This species is related to the better known, cool growing Dendrobium papilio. It is from a lower elevation allowing people in warmer climates to enjoy the presentation. The 2.5" white flowers are held on thin canes that make the flowers appear as if they are floating in space. Dendrobium auriculatum is from Luzon Island, the Philippines, where it grows at elevations between 3000 and 3300 ft. The mature plants can be from 12 to 30" with those that I have grown staying under 18". The flowers are produced on the leafless canes.
Culture: I have grown this well both potted and mounted. Potted has been in fine bark mix and mounted has been on hardwood or cork with some moisture retentive medium around the roots. I tried growing it in cool-intermediate conditions years ago with poor results. I currently have it with 60 to 65F minimum nights and it does well. It is in moderate light, watered daily if mounted and before becoming dry if potted. It gets dilute fertilizer at almost every watering.
Capsule parent: Dendrobium auriculatum '#3'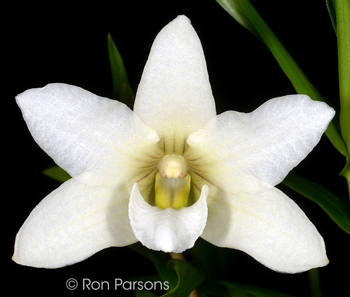 Pollen parent: Dendrobium auriculatum '#1'