During checkout: select the "Orchid & Flask Orders" payment option.
When this item has a price and becomes available for order
you can decide if you want to commit to buy it.
In the shopping cart: use your back button to return
Dendrobium aurifex sibling cross #2895 ('4087' x '5823') and the reciprical cross #2894 ('5823' x '4087') (approximately 25 seedlings per flask).
The Species: This has been in very limited distribution for some years mislabeled as Dendrobium igneum. It was recently described as Dendrobium aurifex which means goldsmith. The glowing flowers are up to 2" wide and are produced along the upper part of the pseudobulb. The pseudobulbs continue to grow over a period of years much like a monopodial.
Culture: Give this plant warm conditions for best performance. It may also grow well in hot conditions but I do not have any experience with that. I grew it in intermediate conditions and it did bloom, but really performs much better with 65F minimum nights. I have only grown it potted, usually in a fine bark mix. I don't let it go dry for any extended period of time. The pseudobulbs will become pendant over time or they can be staked up. Grow it in moderate to moderately bright light.
Capsule Parent: Dendrobium aurifex '4087'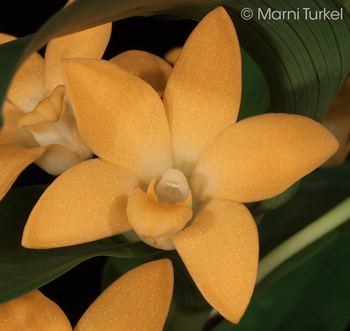 Pollen Parent: Dendrobium aurifex '5823'