Sold out
Dendrobium bracteosum compact outcross #2949 (8492' x 'Dark') (approximately 25 seedlings per flask).
The Species: Dendrobium bracteosum is from New Guinea where it is usually found at elevations from sea level to 2300 ft. They are sometimes found up to 4000 ft. The parents of this cross are a both a compact form that has stayed under 10" tall. There are 3 to 10 of the fragrant flowers per inflorecense which can last 5 to 6 months in prime condition.
Culture: This can be grown potted or mounted and does well for me in warm conditions with ample water and dilute fertilizer. Most of the year the plants can be kept moist but not soggy. If mounted, good humidity and daily watering in the summer are needed. A slight lessening of water and fertilizer for a few months is good, but it isn't a hard dry rest. I have also grown Dendrobium bracteosum in intermediate conditions.
Capsule parent: Dendrobium bracteosum compact '8492'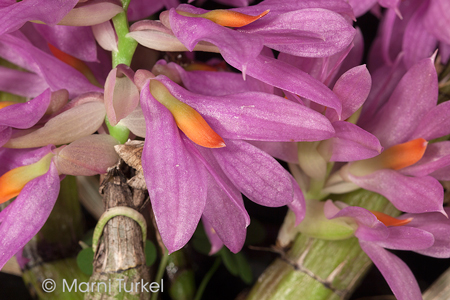 Pollen parent: Dendrobium bracteosum compact 'Dark'