During checkout: select the "Orchid & Flask Orders" payment option.
You will be billed later.
Before you commit to buy, please read About Ordering

Dendrobium catenatum outcross #1930 ('Eric' x 'Marius') (approximately 25 seedlings per flask).
The Species: Also known as Den tosaense, this species comes from Korea, China, Japan and Taiwan at elevations from elevations 1000 to 5250 ft. It can grow in a range of temperatures. The pseudobulbs are arching to pendant and the longest on my mature plant is 12" though most are shorter. The flowers are about 1.25" wide. The inflorescence of 4 to 5 flowers occur on the older, leafless pseudobulbs.
Culture: I have grown this species both potted (in fine bark mix) and also mounted in both cool and intermediate conditions. It should do well warm also. I give it generous water and fertilizer during the growing season and a drier winter. It will bloom well without a hard dry rest.
Capsule parent: Dendrobium catenatum 'Eric'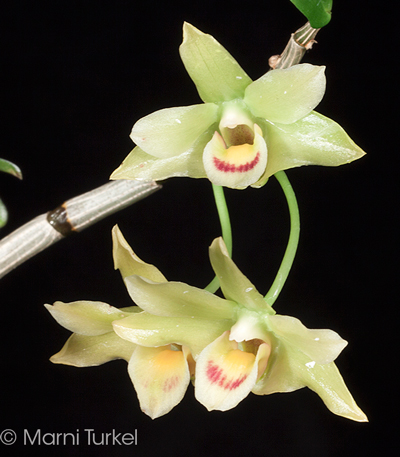 Pollen parent: Dendrobium catenatum 'Marius'