Sold out
Dendrobium ceraula outcross #2930 ('6356' x '8878') (approximately 25 seedlings per flask).
The Species: This Philippines species grows on Luzon Island at elevations around 2800 feet. The showy flowers are about 2" wide. This is related to the cool growing species Dendrobium victoria regina but this is a smaller plant that grows in warm and intermediate conditions. The growths are between 16 to 22" long and arcing to pendant.
Culture: I have grown this at 56F nights, but it has preformed better at 60 to 65F nights. I have grown it potted in a bark mix and also mounted. In nature there is a lessening of water during winter though they have grown and bloomed well for me with year round water and fertilizer.
Capsule parent: Dendrobium ceraula '6356'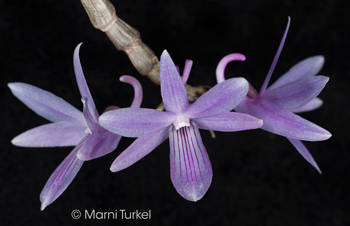 Pollen parent: Dendrobium ceraula '8878'