Sold out
Dendrobium christyanum outcross #2414 ('0880' x '1007') (approximately 25 seedlings per flask).
The Species: A small 3 to 6" plant found in the Northern Thailand, Vietnam and southwest China where it grows in cool forests near 4000 ft. This is one of the nigro-hirsute (black haired) Denrobiums that comes from an area with a definite monsoon climate. The 2" flowers are large for the size of the plant and long lasting with a bit of fragrance.
Culture: These plants enjoy a warm, wet summer and a cool, drier winter. The summers are shady and the winters are brighter. In the winter, reduce or eliminate fertilizer and let the plants dry between waterings but do not allow to go dry for extended periods of time. Mist or water as needed to prevent shriveling of the pseudobulbs. Increase water and fertilizer as the new growth begins.
Capsule parent: Dendrobium christyanum '0880'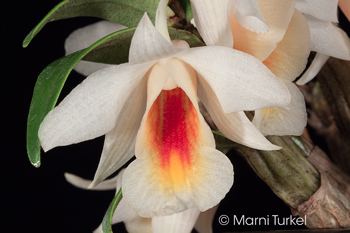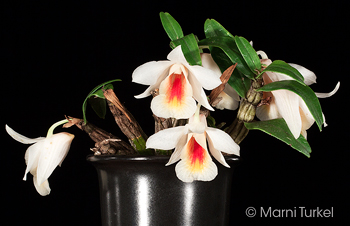 Pollen parent: Dendrobium christyanum '1007'