Sold Out

Dendrobium crepidatum outcross #750 ('9728' x 'Big') (approximately 25 seedlings per flask).
The Species: This species is from Southeast Asia, India and China and is found at elevations from 2000 to 7000 feet. It is an epiphyte and has an arching to pendant growth habit. Summer monsoon rains are heavy as is the humidity with less rain in the winter. The flowers are produced on leafless canes which will produce flowers for many years. The flowers are long lasting and sweetly scented.
Culture: I have grown this species potted (and staked up the growths), but because of the somewhat pendant habit it is also grown mounted. Potted, use a relatively small pot and a fast draining mix. The summers are warm, shady with a lot of water and regular fertilizer. Winters are brighter, a bit cooler, and drier. Water to prevent severe shriveling. To prolong the life of the flowers, do not water plants during budding or blooming. After flowering and as new growth begins, increase water and fertilizer. I have grown this species in the intermediate to cool range, but I believe it will also do well warmer.
Capsule Parent: Dendrobium crepidatum '9728'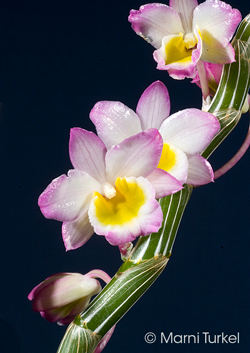 Pollen Parent: Dendrobium crepidatum 'Big'