Sold out
Dendrobium cyanocentrum outcross #2429 ('white x blue' x 'blue') (approximately 25 seedlings per flask). This cross is 75% blue and 25% white. I am hoping this will increase the amount of blue in the seedlings.
The Species: I didn't photograph the flower of the pollen parent so show another seedling from that cross which is a close approximation. The other blooming images are of the blue form. Mature plants of Dendrobium cyanocentrum reach 1.75" on a blooming sized division. It is a member of the Oxyglossum section and is uncommon in collections.
Culture: I have grown this species mounted on cork with the 56F nights, even moisture, regular fertilizer in moderately bright light. I now grow them in warm conditions of 65F minimum and they do will really. I prefer to grow them potted in small pots in sphagnum moss. Like most plants from New Guinea, good water quality is essential. I use 1/4 strength fertilizer at almost every watering (lower in the winter).
Capsule Parent: Dendrobium cyanocentrum ('white' x 'blue)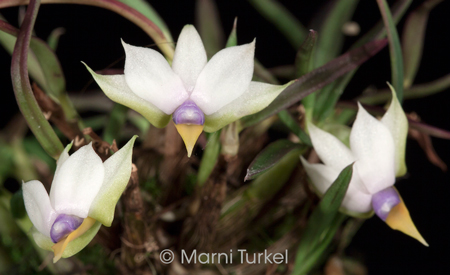 Pollen Parent: Dendrobium cyanocentrum Blue