Sold out
Dendrobium falconeri outcross #1485 ('2404' x '1614') (approximately 25 seedlings per flask).
The Species: This beautiful species is found throughout the Himalayas and also on Taiwan. The fragrant flowers can be up to 4 inches wide, but for me they are closer to 2+ inches. The plants are pendant and have very interesting "knobby" pseudobulbs. Over time they elongate to form a really magnificent plant that may be long, but is not wide or bulky. The flowers last about two weeks (especially if dry while blooming). They grow at elevations from 2600 up to 6300 feet.
Culture: This species needs less water in the winter but doesn't want to be dry for any extened period of time. Protect the buds and flowers from getting wet to prolong the bloom. I grow them shady, warm, and wet in the summer months and then dryer, brighter, and cooler in the winter. I have been growing them with 50 degree Fahrenheit winter minimums, but they should do well without being so cold. I prefer to grow these mounted because of the pendant habit.
Capsule Parent: Dendrobium falconeri '2404'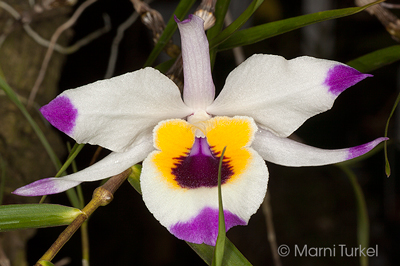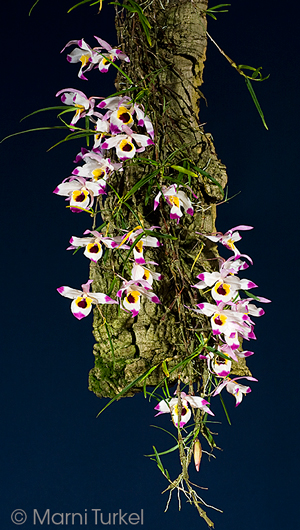 Pollen Parent: Dendrobium falconeri '1614'