During checkout: select the "Orchid & Flask Orders" payment option.
You will be billed later.
Before you commit to buy, please read About Ordering
In the shopping cart: use your back button to return
Dendrobium gracilicaule #5547 outcross (approximately 25 seedlings per flask).
The Species: This is found in Eastern Australia from New South Wales to Queensland where it grows as an epiphyte and occasionally a lithophyte. The plant is from 10 to 29" tall. The inflorescence can have 5 to 40 of the fragrant flowers. The back of the flowers are marked with red-brown blotching and the front is cream to dull yellow.
Culture: Grow in light as bright as possible without burning the leaves. The brighter the light, the more compact the plant will be. In the habitat the average summer day is in the high 70's and days in the low 60's. Winter days are in the 60's and nights are in the 40's low 50's. Plants can withstand occasional temperatures close to freezing, though it is important that the plants are dry during that time. Rainfall is moderate during the growing season and decreases in fall until early spring. Let the medium dry between waterings.
Capsule Parent: Dendrobium gracilicaule 'In Situ' HCC/AOS.
Grown by Jeff Tyler of In Situ Orchids.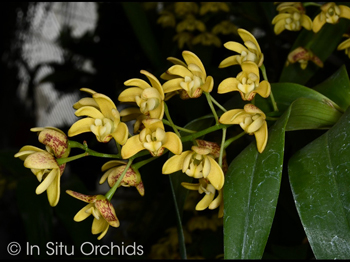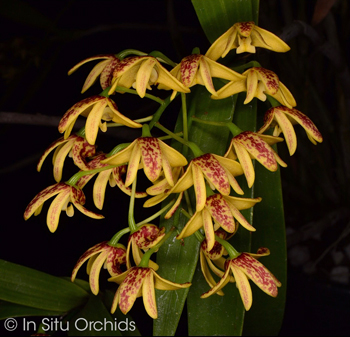 Pollen Parent: Dendrobium gracilicaule (Kinget #1 x Kinget #2).
Grown by Jeff Tyler of In Situ Orchids.